Gozo ferry port
Drive the main road through Victoria (capital of Gozo) and continue towards Gharb. Pass Gharb church from the left and drive 200 meters up the hill. Take the second left after the church. Tal Mirakli will be on you right hand side just oppposite the bus stop.
Malta Airport
Take the X1 from airport to Gozo Ferry. Go over with the Ferry to Gozo. Take bus 301 to Victoria (Rabbat). Change to bus 312 at the main bus station. After the Gharb village you should depart the bus at Hongur stop.
The property is located in a quiet residential area on the edge of small old Gharb village in Gozo. It is within ten minutes walk of the town centre with couple of restaurants and shops. This is peaceful area with nice walks on the edge of the island with magnificent sea views. You can watch beautiful sun sets from the pool area, balconies or from the penthouse terrace.
Dwejra
There is still a lot to see in Dwejra, even though the Azure window collapsed. This national park has special rock formations like the Fungus Rock rising from the sea. There is the Inland Sea with a cave tunnel from the open sea. You can take a special boat ride through the tunnel and to see the big caves under the sea side cliffs. Dwejra is only 2 km away from our Bed & Breakfast.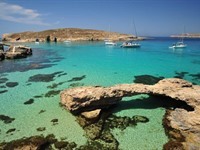 The Blue Lagoon
The Blue Lagoon – just fifteen minutes boat-ride across the water from Mgarr Harbour – is one of the best swimming spots in Malta. Lying between the island of Comino and the islet of Cominotto, the calm, crystal-clear waters of the lagoon reflect the cyan blue of the sky over a pure white sandy seabed. This long, narrow bay surrounded by rocks and a few small areas of sand is a natural swimming pool perfect for floating, splashing, snorkeling, scuba diving or simply relaxing.
Ramla Bay
This is Gozo's, and arguably Malta's, best beach. A wide stretch of red sand, it is often referred to locally as "Ramla il-Hamra" – the Red Sandy Beach! Ramla is a wonderful place to swim, snorkel and chill out in the sun. The area around the beach is wonderfully undeveloped, although there are a couple of cafes and a stall set back from the beach. The sand dunes are protected and the valley leading down to the bay is green and fertile. The terraced walls built by the farmers give the valley an appearance of a quilt when viewed from surrounding high ground.